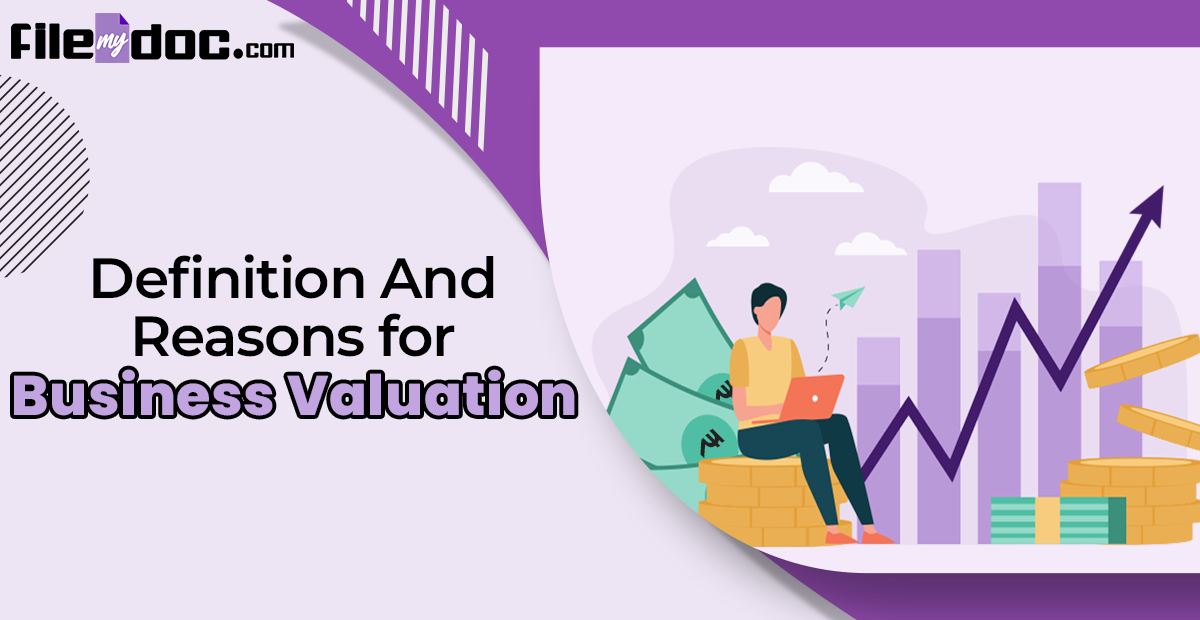 Business Valuation – Businesses require money to survive and grow. And raising funds is somehow an unavoidable part of the business journey. To establish and grow a scalable business, startups usually go through multiple funding rounds.
Though the right amount of funding is important, the timing of funds is also very important. If you delay the funding process, you are likely to be welcomed by increased competition in the market. Contrary to this, getting too early can put your startup at risk of not being relevant in the market. 
What if the timing is right, but the funds are insufficient? 
The Funding Dilemma
Businesses approach VCs, angel investors, or other startup enablers to raise funds, and they primarily have two types of funding as an option: Debt funding and Equity Funding.
Debt funding involves borrowing money and paying it back with interest. On the other hand, equity funding involves selling a portion of a business, i.e. equity, in return for capital.
In the case of equity funding, businesses first need to figure out the value of their company as it helps determine the fair amount of equity they have to give to an investor in exchange for funds. Thus to determine the fair value, business valuation is needed.
Now, that you understand the basics of why the valuation of businesses is important, let's talk about the whole process in detail.
In this blog, you will get to know about:
What Is Business Valuation?
Reasons and Importance of Business Valuation
Factors Influencing The Business Valuation
Business Valuation Methods
What Is Business Valuation?
It is the process of evaluating the worth of the business using some valuation methods. This process holds importance for businesses and entrepreneurs as it helps determine the fair amount of equity they have to give to an investor in exchange for funds.
For an investor, the valuation process holds the same importance as it tells them what percentage of shares they will receive in return for the amount they have invested.
Reasons And Importance Of Business Valuation
Calculating the value of a business is a relative thing. Generally, it is determined by analyzing the industry to which the business belongs, the future of the industry, the size of recent business exits in the industry, etc.
Sometimes valuation depends on the willingness of an investor to pay a premium to get into a deal. And sometimes, entrepreneurs, because of a lack of valuation knowledge or desperation for money, undervalue their business and settle for less than the fair value.
In a perfect scenario, investors prefer a discounted value that promises a huge return on investment (ROI,) and entrepreneurs hope for a high valuation.
For Instance: If an entrepreneur quotes a high figure to investors, as compared to the fair value, he/she won't be able to meet the set targets, leading to a lower valuation in the next funding round.
Contrary to this, quoting too low leads to giving up a large portion of business equity to investors.
Because of these reasons, it is important to evaluate the fair value of the business.
Factors Influencing The Business Valuation
Following are the factors that influence the valuation of a business.
1. Business Reputation
To survive and grow in the market, a positive business image is important. And because investors usually conduct due diligence before investing in a business, a bad business image can reduce your chances of getting investors on board.
For Instance: Fintech startup BharatPe was set for a fresh round of funding in January 2022, which would have increased its valuation further. But, co-founder Ashneer Grover and his wife Madhuri Jain Grover's saga hit the business hard. And now, the startup is in news for all the bad reasons.
So, work keeping your business reputation in mind and maintain a positive business image.
2. Traction
Traction refers to the progress or the momentum your business has attained over time. Strong traction numbers, like increasing profit, revenue and user base, provide quantitative proof and is a sign that users love your product.
Traction numbers also enable investors to assess and further decide whether to invest in the business or not.
3. Business Industry
The industry to which the business is catering plays a major role in deciding a fair valuation of a business.
Like in the case of a business catering to the sunrise industry, investors are likely to pay a premium because of the high growth rates.
Sunrise industry refers to the developing sector or a market in its infancy stage, like the electric vehicle space. So, choosing the right sector is important, as it highly influences the valuation of a business.
Pre-valuation revenues, market size, distribution channels, competitors, etc., are some of the other factors influencing the business valuation.
For Instance: If your business develops a product suitable only for people living in Delhi, the valuation of your business will be lower than your competitor, which sells over India or globally.
Business Valuation Methods
There are several available industry metrics that are used to find fair value for a business. In the case of determining the valuation of a startup, the process becomes difficult, as, unlike mature companies, early-stage startups don't have more firm facts and figures.
So, below written are some methods that are used to find the valuation of a business.
The Berkus Method
Risk Factor Summation Method (RFS method)
Discounted Cash Flow Method
Venture Capital Method
Scorecard Valuation Method
Comparable Transactions Method
Book Value Method
Liquidation Value Method
First Chicago Method