Are you starting your own Business? keep in mind The 9 Points of Business Plan If Yes! Have you drafted a Business Plan yet?
Wanted to share with you that 80% of startups failures are due to lack of planning for their business.
So.. How is that you are planning your startup success.
Before you step into the startup journey, you must be prepared for the ways to search its successful destination.
Drafting a business plan can help you visualize any problems you might face after starting up your business.
So, before you start up, you must do a thorough analysis of your business.
The 9 Points of Business Plan for Startups list Here: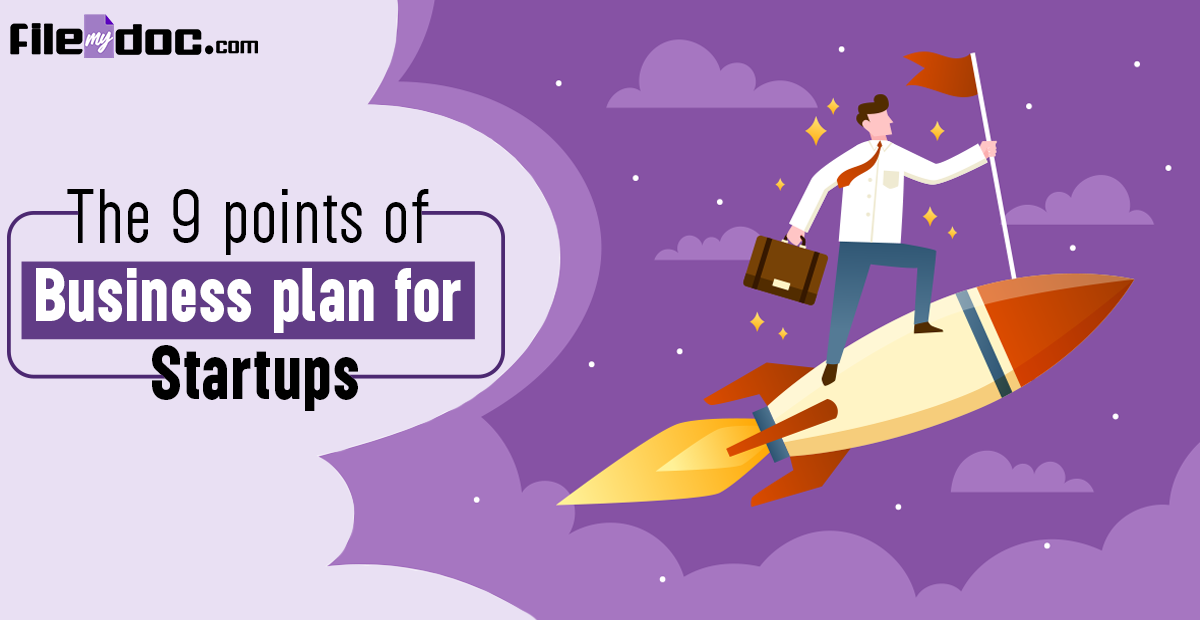 #1 Plan Summary
You must make notes of each aspect of your business. This will help you to validate your business idea. Note down Your Mission, Your Vision, and Your Purpose. Conceptualize and make brief note for each and everything needed for running your business successfully.
#2 Targeted Market
Know your targeted market by defining for whom your product or services are intended for. Try to visualize the demographics (Location, Age, Gender, Income group, Interest) of your targeted customers. Try to find out why your targeted customers should buy your product or services. Learn how much they are willing to pay for your Product/service.
#3 Competitors Study
Learn as much as you can about your competitors this will play a very crucial role in your marketing and sales proposition. Define your competitor's strengths and weaknesses. Define your competitive advantages- what extra efforts you are willing to take? What makes you unique? What is your USP (Unique Selling Point)?
#4 Human Resource
Human capital in an integral part of any business. You must decide, whether you need additional staff to run your business? How much are you willing to pay them? How much experience must they possess? What skills do they need to have? And so on.
#5 Vendors & suppliers
For every business whether they are into manufacturing, trading or into service industry, need a set of reliable vendors and suppliers. How many suppliers will you be using on a regular basis? How are you going to endure that you get a reliable supply of inputs to run your business. Consistent supply of raw material at competitive price may be a success prerequisite for every business.
#6 Marketing Plan
Start planning about marketing strategies to target your customers. You should think about ways to gain customer's attention and to showcase your Product/services in front of them? Which medium will you use to reach your customers? How will you communicate your message to them? What is cost allocation? What is the expected ROI (Return on Investment)?
#7 Operations
Describing the business operations include what you will do to run your business efficiently. What would be your operating hours? How will you handle day to day work? How will your operations deliver a WOW experience to your customers?
#8 Finance Management
How much money do you need to start/run the business? What are the sources to maintain positive cashflow? Work out the expected profitability of the company ?What are the fixed and variable costs for running the business? How to reduce the unnecessary cost or expenses?
#9 Legalities & Compliances
Startup legalities involve getting timely registration of GST, Trademarking of brand, MSME certificate, copyrighting of content, timely ROC filings and timely accounting process. For Startups and SMEs drafting a legally viable business agreements and contracts is a top priority. Filemydoc.com helps you in all of the above legalities either free of cost or pocket friendly way.