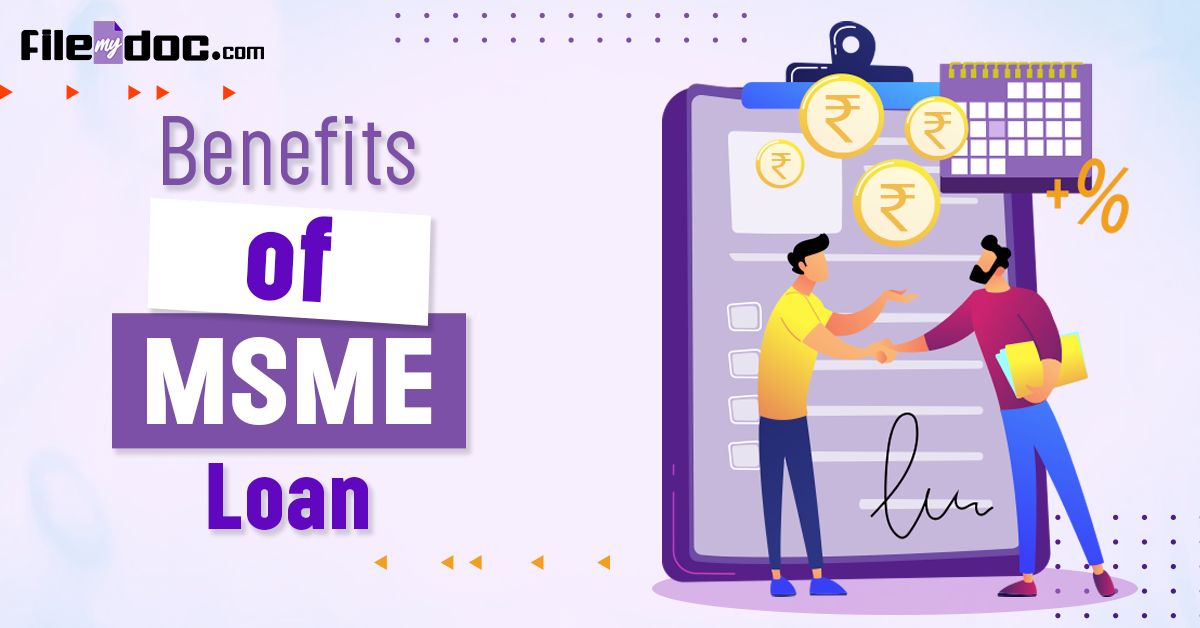 India has established itself as an emerging market in the world attracting investors from various countries. India owes a huge part of this growth to the micro, small and medium enterprises (MSMEs) sector. The MSME sector contributes over 40% of the total GDP and remains a critical source of employment. MSMEs are the backbone of the economic development in India. These enterprises contribute significantly to the growth of the nation via innovation.
The Government of India has classified MSMEs into two types: Manufacturing enterprise and Service enterprise. This is how they are classified:

Micro enterprise
Small enterprise
Medium enterprise
Manufacturing Enterprises
Less than Rs. 25 lakhs
Rs. 25 lakhs to Rs. 5 crores
Rs. 5 crores to Rs. 10 crores

Service Enterprises
Less than Rs. 10 lakhs
Rs. 10 lakhs to Rs. 2 crores
Rs. 2 crores Rs. 5 crores
There is a reason why MSME loans are so popular among small businesses in India. Let us look at the factors.
What is an MSME loan? An MSME loan is a type of business loan that is provided to micro, small, and medium enterprises for starting a business establishment, expanding business, or meeting other business expenses. MSME loans are unsecured in nature and availing them is often a hassle-free process. However, you must meet specific eligibility criteria in order to avail of this type of loan. MSME loans are defined by the Government of India and RBI as "loans for business enterprises for support in terms of finance, infrastructure, and other areas."
Financial institutions offer these loans under several government schemes like Credit Guarantee Fund Trust for Micro and Small Enterprises (CGTMSE). This was set up by the Government of India, Ministry of MSME and SIDBI with a view to facilitating the flow of credit to the MSME sector without the need for collaterals. Under this scheme the lender should:
Give importance to project viability, and Secure the credit purely on the primary security of the assets financed. If an MSME unit fails to repay the loan, then the Credit Guarantee Scheme (CGS) would make good the loss incurred by the lender up to 85% of the outstanding amount in default. Businesses must meet specific eligibility criteria mentioned under the schemes to enjoy the benefits extended by an MSME loan.
Additional reading: Government Loans For Small Scale Businesses
Benefits of MSME Loan MSME loans are for the most part collateral-free Quick online approval and disbursal of the loan amount An extended tenure that ranges from 12 months to 60 months Reduced interest rates Nominal documents for MSME loan application Manage your loan easily from the net banking website of your financial provider Pre-approved offers
Additional Reading : The Advantages Of Getting Your Business An MSME Registration
What are the features of an MSME Loan?
Accessibility
Availing startup capital, capital for sustaining an already established business, or funds for expansion can be one of the most challenging things you can do while running a business. An MSME loan is easy to avail and the whole process is hassle-free. Documentation is minimal, and the loan amount is disbursed quickly. This can come in handy when you are in urgent need of funds.
Reduced Interest Rates
Every penny saved is a penny earned. No one wants to spend a fortune in paying exorbitant amounts of interest. MSME loans come with reduced interest rates, which makes it a popular financial product.
Collateral-free loans
MSME loans are collateral-free, meaning you don't need to pledge security in order to avail it. MSME loans are designed to help small businesses and boost their productivity, hence they do not require collateral from companies to be eligible for it. This makes MSME loans an ideal source of funds.
Flexibility
MSME loans are mostly used for short-term requirements by businesses. It is flexible, as there is no long-term commitment. Having a short-term commitment means you can manage the cash flow efficiently and allocate available resources accordingly.
Since MSME loans are designed to meet the short-term requirements of small businesses when there might be a dire need, it is an excellent source of funds for entrepreneurs who want to avoid liquidation of control under such circumstances. This allows them to take full charge of their own business.
Additional reading: SME Loan – Purpose of the loan
When should you take an MSME loan? You can consider an MSME loan under the following circumstances.
You are purchasing land for starting a business You are purchasing a factory You are buying factory supplies like machine equipment etc. You are buying raw materials to meet the capital requirements of your company You need to settle employee wages, bills, and debts You want to expand your business You need financing for marketing and advertising purposes You need money for the refurbishment of the organization Availing an MSME loan is easy and hassle-free. Most lenders disburse the loan amount quickly—provided all the documentation is in place and you have proved your creditworthiness. Documentation is also minimal. The processing time is very quick, and some lenders have approval times as low as 24 hours. Most lenders have online account access, which lets you access your loan account details easily. You can also track and make your EMI payments effortlessly.
MSME loans come with competitive interest rates ensuring that a very minimum amount is spent in repayment of the loan. Compared to other conservative forms of financial products, this translates into savings. Additionally, most MSME loans do not require collateral. These loans are mostly utilized for short-term requirements by small businesses. This poses a certain amount of flexibility to the borrower, as there is no long-term commitment. Having a short-term commitment means you can manage the cash flow efficiently and allocate available resources accordingly.
MSME loans come with great benefits for businesses, like no collateral, fast processing, and easy approval. This meets the exact needs of businesses at any stage of their growth.
FAQs of MSME Loans: How much loan amount can I get under MSME Loans? MSME loan amounts range from Rs.50,000 up to Rs.5 crores.
What kind of interest rate can I get on an MSME loan? MSME loans usually come with an interest rate range of 8 – 15%.
Are the repayment tenures flexible under an MSME loan? Definitely. MSME loans give you flexible repayment tenures of 12-60 months.
How old should my business be to get an MSME loan? A business should have been profit making for at least for two consecutive years to be eligible for an MSME loan.
My business has not been making any profit. Will I get an MSME loan? It might be difficult to get a loan in your case. It is advisable to talk to your lender regarding your loan options.
Can I get an MSME loan to start a new business? Yes, you can get an MSME loan to set up a new business.
Are MSME loans different from business loans? Though both the loans are offered to businesses and enterprises, there might be slight variation in the loan amount and interest rates. MSME loans are specifically designed to suit the MSME setup.