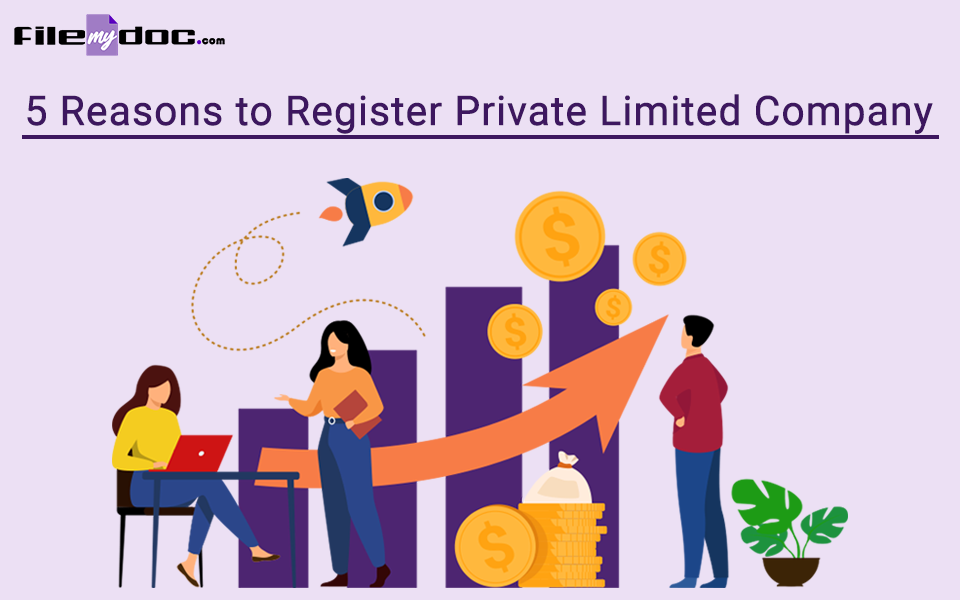 In general, a Private Limited Company is regarded as a privately-held business entity. Such entities are managed by private stakeholders. The liability arrangement in a Pvt. Ltd. company is not as stringent as LLP or sole proprietorship business model wherein business assets are at risk in case of a fiscal crisis. Indeed, stakeholders in a Pvt. Ltd. company are accountable for the business loss, but there is an exception to that. The shareholders can confront such losses up to the extent of the number of shares held by them. Meaning – member's accountability for compensating the business loss is only limited to the number of shares held by them. Also, the stakeholders cannot be held accountable for losses beyond the share's value. The privately-held business entities in India are governed by the Ministry of Corporate Affairs (MCA).

As per Section 2 (68) of the Companies Act, 2013, the Pvt. Ltd. company is defined as:

"A Company having a minimum paid-up share capital as may be prescribed, and which by its articles,—

(i) restricts the right to transfer its shares;
(ii) except in the case of One Person Company, limits the number of its members to two hundred;
(iii) prohibits any invitation to the public to subscribe for any securities of the company."
Setting up a business is the most rewarding and exciting experience for every interested entrepreneur. When you decide to start a business, you should choose the right kind of business structure. Furthermore, selecting the proper business structure is also an important decision because it has enduring implications throughout the life-cycle of your business. Hence, you are advised to adopt the highly appropriate entity which will support both the vision and objective of your business. Many entrepreneurs opt for Private limited company in India due to various reasons which are shared in this post. Click to learn on starting a Private Limited Company.
Why opt for this business entity ? Here is 5 reasons to register Private Limited Company.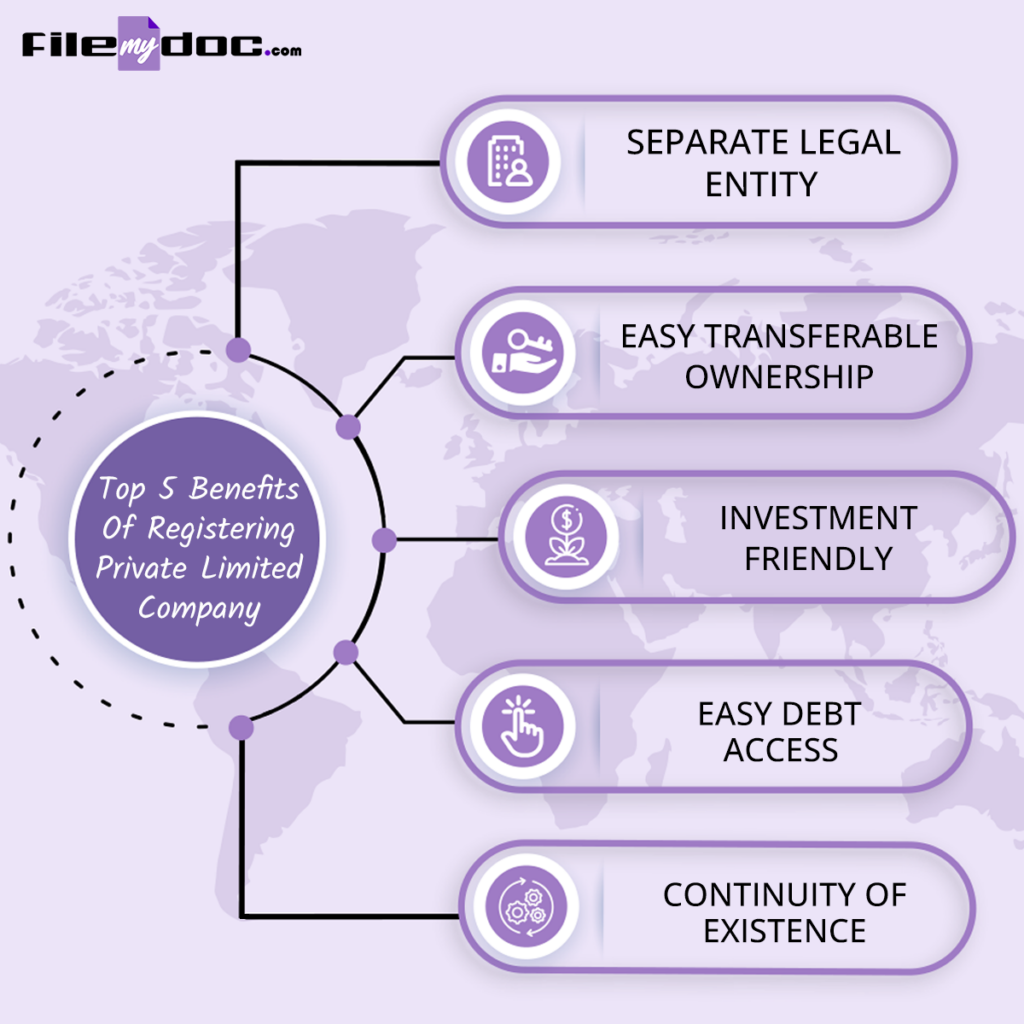 1. Boost the credibility of your business
The number of newly entering ventures and businesses is increasing day by day. Due to this, suppliers, customers, and investors are seeking for better business credibility. The partnership or proprietorship firm in India is not registered with the Indian Ministry of Corporate Affairs. It will lead to various hassles. With private limited registration, the entrepreneurs make the information such as company status, registered address, name and other details available easily for customers and investors in the public databases. It boosts the overall business credibility.

2. Going large-scale
The private limited registration brings foreign investors and companies an excellent opportunity to invest in the company with no governmental approval. It makes the process simpler for entrepreneurs to go international. It is essential for all new business entrepreneurs to have this unique feature for allowing both collaborations and FDI with global businesses.

3. Simple Funding
It is a well-known fact that funding plays the most important role in establishing, growing or even maintaining your business. If you want to grow your business quickly, you should have the required funding types. When it comes to partnership firms or proprietorship firms, they can limit their funding to debits, self-funding, and also funding by investors and family. They never enjoy the equity funding facility. It will affect startup to use this essential source of funding. To avoid unwanted hassles, the private limited registration makes that the companies are capable of using the risk-free funding option.

4. Easy transfer of ownership
At some point of time, there does arise a need to transfer the ownership of business and in such cases, it becomes more complex for unregistered business entities. Sole proprietorships cannot be sold and only the transfer of ownership of assets can be done. On the other hand, the transfer of shares and business-related documents are easy for the entities that are registered as private limited company or LLP.

5. Enjoy better savings on tax
Everyone knows that the corporate tax amount is lesser when compared with income tax. If you register your company as a Private limited company in India, you are able to save a considerable amount of money on taxes. Along with the common salary, the business can pay dividends to the shareholders. These kinds of dividends include minimal tax deductions, so the shareholders receive higher benefits. This process will ring scope for staffs to receive the pension benefits from the companies.

From the above discussion, it's quite explicit why a private limited company in India is so popular among beginners and other entrepreneurs.

If you are planning to register your business as a private limited company in India. Get started today with Filemydoc.com and schedule a free one-to-one video consultation with our experts.